Nicole Vaidišová Czech pronunciation: born 23 April 1989 is a Czech female tennis player who is currently retired.
Vaidišová is an Australian Open and French Open semifinalist and also reached the quarterfinals at Wimbledon. Vaidišová started playing tennis when she was six years old, enrolling to train at Nick Bollettieri's tennis academy in Bradenton, Florida. Her serve was considered her biggest weapon. 9 August 2006, at the age of 17 years, three months, and two weeks, she became the 12th-youngest player in WTA Tour history to be ranked in the top 10. She achieved a career-high ranking of World No. 7 on 14 May 2007. Her form dipped shortly after, and at the time her retirement was announced in 2010, she was ranked at No. 177.
From March 2009, she was coached by her stepfather, Ales Kodat, who replaced David Felgate. By the end of 2009, she had hired top coach Eric van Harpen. Her stepfather announced that she had retired in March 2010, citing "lack of interest in tennis" as the primary reason.
Contents
* 1 Career
o 1.1 2003–2004: Instant success
o 1.2 2005–2007: Consistency and top 10 debut
o 1.3 2008–2010: Struggles and retirement
* 2 Personal
* 3 Endorsements
* 4 Interests
* 5 WTA Tour titles (6)
o 5.1 Singles (6)
o 5.2 Singles runner-up (1)
* 6 ITF titles (2)
o 6.1 Singles (2)
* 7 Singles performance timeline
* 8 WTA Tour career earnings
* 9 Head-to-head record against other players
* 10 References
* 11 External links
Career
2003–2004: Instant success
Vaidišová debuted in 2003 by reaching three consecutive finals: won $10K ITF/Plzeň-CZE, her only event in 2003, without dropping a set.
In 2004, her first full year as a professional, Vaidišová finished the year as a top 100 player. As a qualifier at only her third WTA Tour main draw at inaugural Vancouver, Vaidišová became the sixth-youngest singles champion in tour history at an age of 15 years, three months, and 23 days. She also became the lowest-ranked player (World No. 180) and second qualifier (of three) to win a title in 2004. Vaidišová won her second title of the year at Tashkent, defeating Virginie Razzano in the final. On 18 October, she made her top 100 debut at World No. 74, becoming the youngest player in the top 100 at the time.
Later in the year, Vaidišová reached the quarterfinals at the Japan Open Tennis Championships in Tokyo. Vaidišová made her Grand Slam debut at the US Open, losing to defending champion and World No. 1 Justine Henin in the first round.
Vaidišová finished the year with two WTA titles and a win-loss record of 31–8.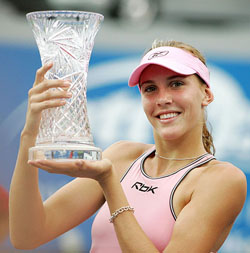 Nicole Vaidisova
Nicole Vaidisova
Nicole Vaidisova
Nicole Vaidisova
Nicole Vaidisova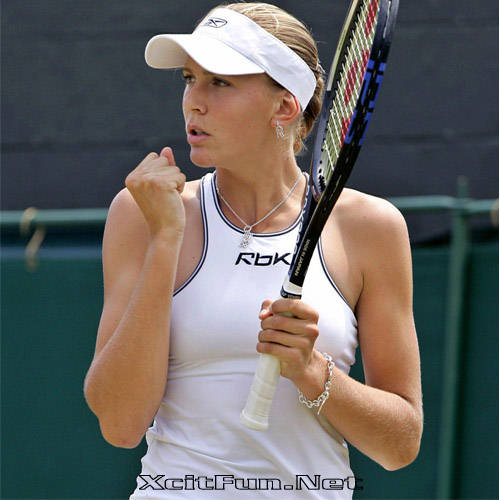 Nicole Vaidisova
Nicole Vaidisova
Nicole Vaidisova
Nicole Vaidisova
Nicole Vaidisova
Nicole Vaidisova
Nicole Vaidisova
Nicole Vaidisova
Nicole Vaidisova