Vincent Spadea born 19 July 1974 in Chicago is an ATP Tour professional tennis player from the United States. He is one of only three players in history to defeat Roger Federer 6-0 in set, at a major event.
He reached a career high in the ATP Champions Race position of World No.10 in April 2003 , as well as a career-high ATP ranking of World No. 18, achieved in February 2005. He has career prize money earnings of over $5,000,000. Spadea has ATP career singles wins over Roger Federer (1-2 record), Pete Sampras (1-4), Andre Agassi (2-4), Rafael Nadal (1-1), Andy Roddick (1-2), Patrick Rafter, Richard Krajicek, Yevgeny Kafelnikov, Jim Courier, Michael Chang, Marat Safin, and Gustavo Kuerten. He is a 2-time Olympian team member (2000 Sydney/2004 Athens).
Contents
* 1 Tennis career
* 2 Off the court
* 3 Titles
o 3.1 Singles Titles
* 4 References
* 5 External links
Tennis career
While in Boca Raton, he attended the Saint Andrew's School. During his time there he also helped to win the National Championship for his high school in 1990.
In 1999, he broke into the Top 20 players in the world for the first time. In 2000, had a string of injuries that dropped him drastically to a world ranking of 237 from 19. Vince set a new ATP benchmark with a 21-match losing streak in 2000. Working hard on the challenger circuit after his fall, he successfully recovered and eventually won his first career ATP Tour tournament in Scottsdale, Arizona, where he defeated James Blake and Andy Roddick along the way in 2004 . He continued to back to the top of the world rankings from the 200s to a career high 18. This is considered one of the greatest comebacks in tennis history in terms of ranking spots improved.
In 2003, Spadea embarked on a Masters series tear, qualifying at the Pacific Life Open and reaching the semi-finals for the first time in his career, losing to World No. 1 Lleyton Hewitt.. He went on to the Monte Carlo Masters a month later and reached his 2nd semi-finals in a Masters series . Being one of only a handful of Americans to ever reach that far in a Masters claycourt event . This helped him reach a career high position of No.10 in the ATP Champions Race in April.
In 2005, Vince turned down numerous TV opportunities including a spot on ABC's hit show "The Bachelor" to focus on his inspiring tennis comeback that saw him rise from the bottom of the ranks to No.18 in Feb. Vince then signed a publishing deal with ECW Press to write a candid memoir on the behind the scenes life of a pro tennis player, violating a long-standing tennis rule that players do not reveal locker room secrets to the world in exchange for money.
Vince Spadea
Vince Spadea
Vince Spadea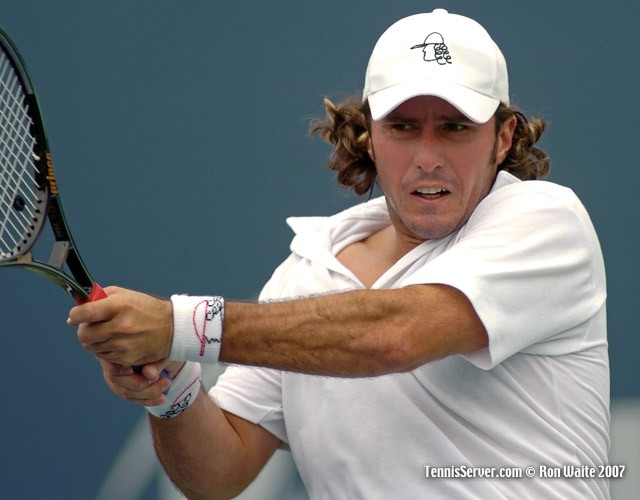 Vince Spadea
Vince Spadea
Vince Spadea
Vince Spadea
Vince Spadea