Andrea Petković in Serbian Cyrillic: Андреа Петковић, born 9 September 1987 is a professional German tennis player of Serbian origin.[1] She is the highest ranked German tennis player. She lives in Griesheim near Darmstadt, Germany.
Petković reached her current and career-high singles ranking of World No. 11 on 6 June 2011. She has won 2 WTA titles, 8 ITF singles titles and 3 ITF doubles titles. Petkovic became the German national champion in 2007 and 2009. She is coached by Petar Popović and her father Zoran.
Contents
* 1 Early and personal life
* 2 Career
o 2.1 Early career – 2008
o 2.2 2009
o 2.3 2010
o 2.4 2011
* 3 WTA Tour finals
o 3.1 Singles finals: 4 (2–2)
o 3.2 Doubles finals: 1 (0–1)
* 4 Singles performance timeline
* 5 References
* 6 External links
Early and personal life
Andrea Petković was born in Tuzla, SR Bosnia and Herzegovina, SFR Yugoslavia. but at the age of six months, the family relocated to Germany. Petković first took to the tennis courts when she was six; Her father Zoran Petković, former Yugoslav tennis player and member of the Yugoslavia Davis Cup team, was a coach at a club in Darmstadt at the time. He introduced her to the sport and later became her coach. She was able to finish high school before competing in tennis full-time because Zoran never influenced her into joining the professional circuit.
Apart from tennis, she likes to educate herself by reading; her favourite authors are Goethe and Wilde. Her mother Amira is a dental assistant while her younger sister Anja is a student.Petković graduated from high school in 2006 with an Abitur from the Georg-Büchner-Schule in Darmstadt, a Gymnasium. She has been studying Political science at the Distance University of Hagen since 2008.
Petkovic also has a successful YouTube channel which is home to her video blog entitled "Petkorazzi". In the blog she makes fun of herself, gives fans chances to win prizes, shows fans what life is like on the tour and shows fans how to do the World famous Petko dance. She does the blog in both German and English[8] because she is "not only the most famous person in Germany but the most famous person in the entire world."
Since the beginning of her professional career, she keeps a diary at irregular intervals about her life on the WTA-Tour in the Frankfurter Allgemeine Zeitung, a major German newspaper.Petković obtained German citizenship in 2001. She speaks Serbian, German, English and French. Petković is of Serb ancestry and was born in present day Bosnia and Herzegovina (then part of SFR Yugoslavia), in a 2009 interview with the WTA she stated how her parents might move to Novi Sad, Serbia, where they have a second home. When asked how German she feels Petković replied that "Obviously I'm German, but I always say my soul is still Serbian. Germans are generally more cool, reserved. I'm very emotional, have lots of fire in my personality. In that sense still feel very close to my heritage. For all that, there is much to appreciate about Germany. I feel like I am part of the 'system' and feel very rooted there.
Andrea Petkovic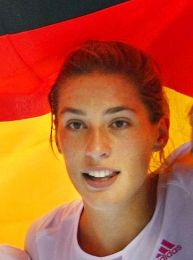 Andrea Petkovic
Andrea Petkovic
Andrea Petkovic
Andrea Petkovic
Andrea Petkovic
Andrea Petkovic
Andrea Petkovic
Andrea Petkovic
Andrea Petkovic
Andrea Petkovic