Li Na Chinese: ; pinyin: Lǐ Nà; born February 26, 1982 is a Chinese professional tennis player. Li has won 5 WTA and 19 ITF singles titles. She is ranked World No. 6 by WTA after her upset performance at the 2011 Wimbledon Championships.
Li won the 2011 French Open singles title, making her the first Asian country representative to win a Grand Slam in singles. She had been the first player from an Asian country to appear in a Grand Slam singles final with her performance at the 2011 Australian Open.[note
Contents
* 1 Off the court
* 2 Career
o 2.1 1999–2002
o 2.2 2004
o 2.3 2005
o 2.4 2006
o 2.5 2007
o 2.6 2008
o 2.7 2009
o 2.8 2010
o 2.9 2011
* 3 Grand Slam finals
o 3.1 Singles: 2 (1 title, 1 runner-up)
* 4 Career statistics
* 5 See also
* 6 Notes
* 7 References
* 8 External links
Off the court
Li Na was born on February 26, 1982, in Wuhan, Hubei, China. Her father Li Shengpeng was a professional badminton player and later worked as a sales rep for a Wuhan based company. He died from a rare cardiovascular disease when Li Na was 14.
At age 6, Li Na started playing badminton, following her father's footsteps. Just before she turned eight, Li made the transition from badminton to tennis when she and her parents were convinced by coach Xia Xiyao of the Wuhan youth tennis club that this would be the right career move for her. Li joined China's National Tennis Team in 1997 and turned pro in 1999.
At the end of 2002, Li left the national tennis team to study part-time at Huazhong University of Science and Technology, where she completed her bachelor's degree in journalism in 2009. The Chinese media cited various reasons for this. Some reported that the relationship between her and her teammate, future husband Jiang Shan ), was opposed by the national team's management, some reported that her coach Yu Liqiao ) was too strict and demanding, while other reports claimed that her request for a personal coach did not go through
However, Li returned to the national team in 2004. Jiang Shan married Li and became her personal coach in 2006. Li quit the national teamas well as the state-run sports system in 2008 under an experimental reform policy for tennis players. This change was called "Fly Alone" ) by Chinese media. As a result Li had the freedom to pick her own coaching staff and she could keep more of her winnings. Only 8 to 12 percent of her winnings go to the government as opposed to 65 percent previously.
li na
li na
li na
li na
li na
li na
li na
li na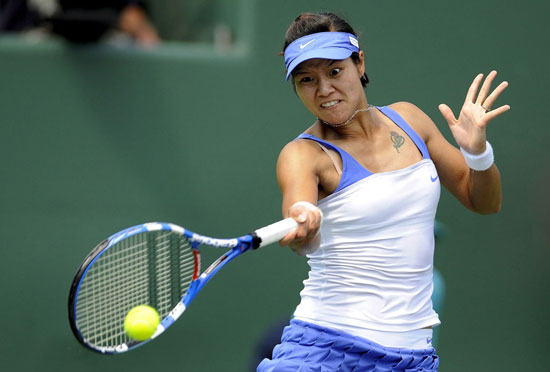 li na